Everyday Backpack by Peak Design
The Everyday Backpack from Peak Design is a bag I've been lusting over ever since they launched their kickstarter for the initial orders. It's one of the few item's I've actually regretted not kickstarting.
Peak Design have been on my radar since their Everyday Messenger kickstarter campaign. I wasn't in the need of a messenger style bag at the time, but I was eyeing off their camera clip system. Might make a good future post.
After missing out on the kickstarter, having decided to wait and see, I watched a ton of early review videos trying to decide which size, the 20L or 30L to buy. The 30L looked too large in most of the marketing material for my everyday use. Finally what sealed the deal for me on the 20L was being fortune to be able to see it in person at a couple of events I attended in early December.
So I ordered the 20L in Charcoal.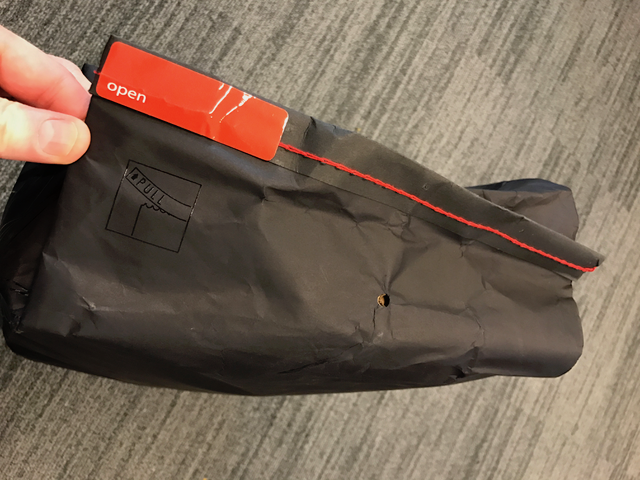 Yes, their bags aren't cheap. Either in price or build quality. They make incredibly well designed, sturdy and high quality bags. And they do come with the price tag that goes with those attributes. If you want a cheap bag with almost no padding grab a sub-$100 Crumpler, like the Private Zoo, which is what I previously using.
I was initially concerned about the fit of the new Touch Bar MacBook Pro 15" as a few backers had commented that the laptop compartment on the 20L bag was a little tight, however as you'll see in the photos below, there is ample room for it.
I ordered direct from their site. Normally I wouldn't do this, but, try an find a local (Australian) supplier, but none of those offering the bag for sale had yet received stock. The bag was shipped from a local distribution point within Australia via AusPost and I received it a few days later. The order was processed quickly and shipping prompt. If it wasn't for the affiliate link (and the 10% discount) I would have ordered from B&H Photo.
The bag is large without being too large, I think the 30L might be a tad too big for my every day use. It sits nicely on my shoulders. Most days it's practically empty save the MacBook Pro, Field Pouch & iPad. I've taken off the waist strap so I can fit a little more in the side pockets.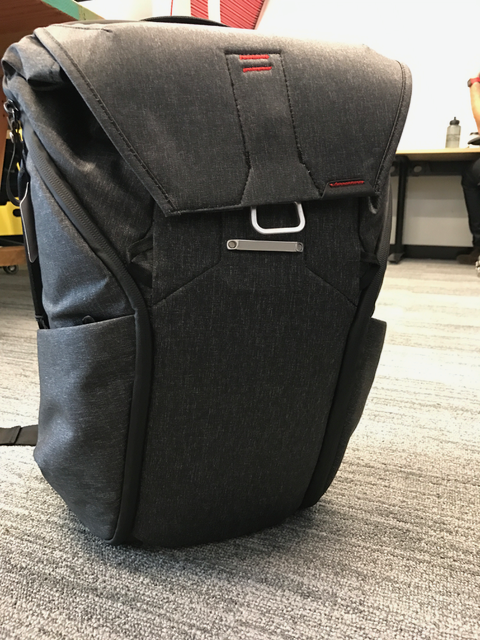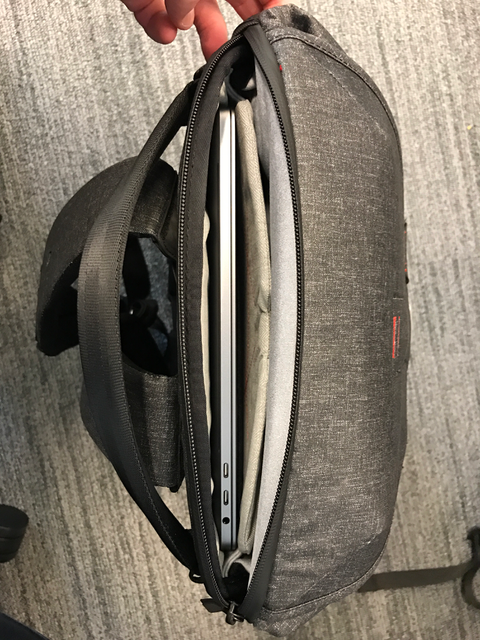 Overall, very happy with the purchase. +1 :)
Everything you can do with the bag, a video from Peak Design's Head Designer
Keen to get yourself one? Links ahoy.
Do check out their other products too, I have a field pouch that will be the topic of another post and I'm keen to try their camera clip system too. I have an upcoming trip, in which I'm eager to put the bag through it's paces with a bit of camera gear in it.